How To Change Your Airtel Xstream Wi-Fi Password?

Airtel Wi-Fi is probably one of the top broadband connections in India. It is into tough competition for plans with its counterparts like Jio, ACT. But still, Airtel broadband plans are the favorite among the
---
So, if you're one of the million Airtel Broadband users, we've created an extensive guide that covers all the important factors you should know. For example, if you're wondering how to change the Wi-Fi password for Airtel, or how to check usage, we've got you covered!
How To Change Wi-Fi Password - Airtel Broadband
There could be a number of reasons for which you want to change Airtel Wi-Fi password. In general, when you get a new Airtel connection, you get a preset Wi-Fi password and address, which is recommended to change for your own network security.
Thankfully, Airtel broadband password change can be accomplished in easy steps and does not require any technical knowledge. Airtel broadband users can change reset the Wi-Fi password from the web browser or using the Airtel Thanks App.In this article, we would guide you with step-by-step process on how to reset Airtel Wi-Fi password with both methods. Also, how Airtel Wi-Fi password can change using laptop or Mac.
Use Airtel Thanks App to Change Airtel Broadband Password
Are you wondering how to change my Airtel Broadband Wi-Fi password using the Airtel Thanks app? Simply follow the steps mentioned below:
Download the latest Airtel Thanks app from Play Store or App Store
Login through your registered mobile number with your Wi-Fi connection.
Else, you can also log in with your Service ID of your Airtel Wi-Fi Connection. You will get an OTP on your registered mobile number, after verifying it you can log in.
On the tap, click on the card of relevant Wi-Fi connection
Click on Manage Services. There will be an option that allows a change of password.
Click on Change Wi-Fi Password
Enter the new password for your network
Submit your request. After the request is submitted, wait for a few minutes before re-connecting all your devices to the Wi-Fi connection with new password.
Use The Website Or Router Configuration Method
In addition to using the Airtel Thanks app, you can also change your password through the website or router configuration. Follow the steps mentioned below for Airtel Wi-Fi password change.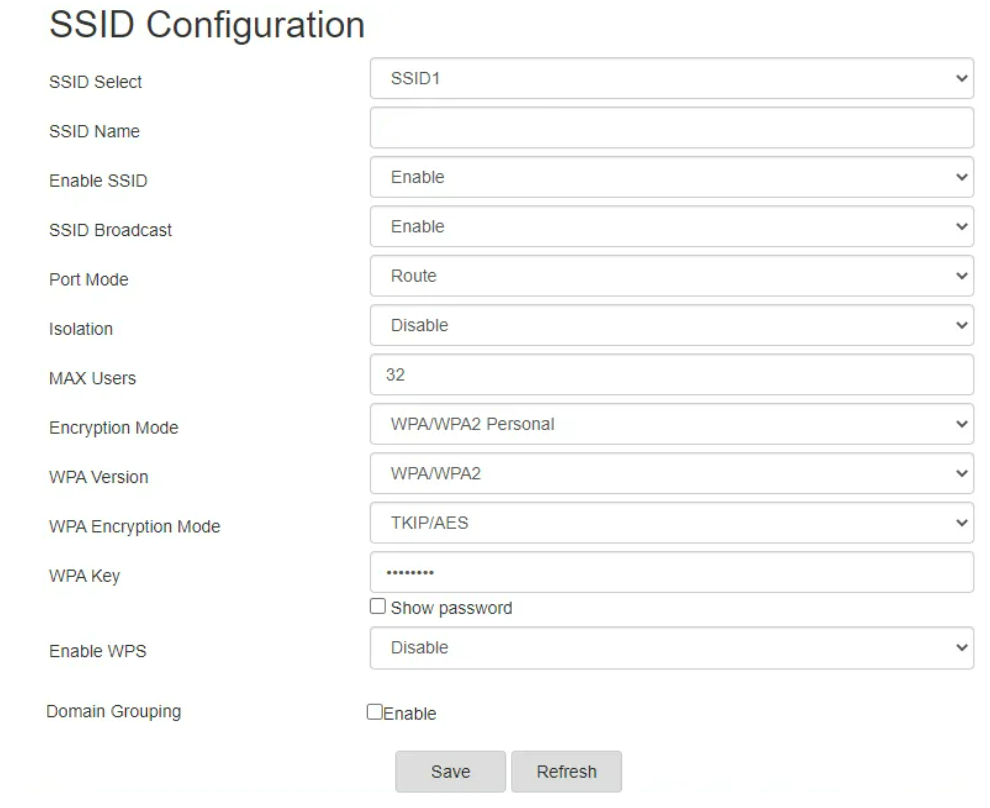 After opening the web browser on your laptop or computer.
Type in 192.168.1.1 in the address bar
Click on Enter.
The GPON Home Gateway page will open up.
Type admin in the UsernameandPasswordfield
Click Login
On the left sidebar, you will see an option "Network" Click on that and select your network(will be listed as Wireless 2.4GHz or Wireless 5GHz).
In the WPA Key field, change the Wi-Fi password.
Save your changes.
Once you have completed all the steps, you will have to wait for a few minutes before logging in to all your devices with the new password.
How to Change Wireless Encryption to WPA2?
Select the 2.4GHz Wireless band in the Network tab
Update Encryption Mode – WPA/WPA2 Personal. But for 5GHz, set encryption mode to WPA2-AES
WPA Version – WPA2
WPA Encryption Mode – AES
How To Change Airtel Xstream Wi-Fi Password ?
If your privacy is important to you, you should use a unique name and a secure password for both Wi-Fi networks. Here's how to change Airtel Xstream Wi-Fi password using a PC, Mac, iPhone, or Android device. If you are on Airtel Fiber connection, you must have noticed that there are two bands-2.4GHz and 5GHzwhen connecting to Wi-Fi.
Change Airtel Wi-Fi Password Using Airtel Thanks App (iPhone / Android)
The Airtel Thanks app makes it simple to update your Airtel Wi-Fi password by smartphone.
Check that your phone is running the most recent version of the Airtel Thanks app.
Launch the app and choose the appropriate landline or fibre connection.
Select "Change Wi-Fi Password" from the Manage Services menu.
Create a new Wi-Fi name and password.
Press the Submit button.
That's all. Allow a moment for the changes to take effect. Then, seek for the Wi-Fi with a new name and connect to it using the new password.
This approach has the limitation of applying the selected name and password to both the 2.4GHz and 5GHz wireless networks. If you wish to use a separate name and password for the two Wi-Fi frequency bands, use the procedure below instead.
Change Password Using Laptop (Windows / Mac)
To update the Airtel Wi-Fi password on a PC or Mac, follow the instructions below:
Ascertain that your PC is linked to the router through LAN wire or Wi-Fi. If you are unable to connect over Wi-Fi, you must utilize LAN.
In a web browser, go to 192.168.1.1.
In the username and password fields, type admin. Then click the "Login" button.
In the left sidebar, navigate to Network > Wireless (2.4GHz).
Enter a custom name in the "SSID Name" field to modify the name of your Airtel Wi-Fi.
Enter a password in the "WPA Key" area to update your Airtel Fiber Wi-Fi password.
Press the "Save" button.
Allow the computer to identify your wireless network once more. Enter the new password to reconnect to Wi-Fi.
Stay with us & view all offers
The best broadband comparisons, carefully reviewed and updated plans exclusively for you!
Check Your Current Airtel Data Usage & Balance Easily
Airtel Broadband service has made it effortless for its users to check their usage and data balance. The users can use Airtel's online portal to check and recharge dataas per one need.
To access the site, you need to have a compatible browser and Airtel's broadband connection. As you tap on the link, you will see a broadband menu, wherein you will see the detail of your data usage. You can also create an Airtel account for a smoother experience to check and track your data usage.
How to Get a Airtel Broadband New Connection?
One would require ann Airtel account to check broadband data usage, follow the steps below:
Go to the Airtel website and fill in the details to create your account.
to register for a new account, click "My Account"
Choose your connection type and enter the details of your broadband service, login ID, and phone number Airtel ID with STD code.
After you click on "Create an account" an OTP will be sent to your registered number.
You can then log in to check your account information.
Using The Airtel Thanks App
If this doesn't work for you, you can also use the Airtel Thanks app, by following the steps mentioned below:
Ensure that the Airtel Thanks app is downloaded on your phone
Open the Airtel Thanks app, tap on the "Airtel" Icon/logo.
Tap the icon on the home screen or app drawer to open Airtel Thanks.
Log in to your Airtel account using your mobile number and password
You will see the option to check your balance. The app's dashboard will display the data balance and the daily limit as well as how many days are remaining to your current cycle.'
Using The USSD Code
To check your current usage and data balance, follow the steps below:
Dial 121 # and press the call button.
You will be asked to choose your required assistance. If an offer appears before the menu, click on OK and continue.
check your balance, select option number 5
To check your current usage, click on number 1
You can also click on 2 if you want to check your daily usage on average.
How To Get More Data For Your Airtel WiFi Connection
Have you run out of bandwidth before the month is over? Don't worry; Airtel provides a great option to get more data. Airtel Smartbytes is a free service launched by Airtel that allows you to check, recharge but also get data reminders, monthly plans and allow additional options without logging in to your Airtel account.
Basically, you can use Airtel Smartbytes to buy more data for the month at an additional charge. The best part of this service is that you don't need to pay for the additional data at the time; instead, the cost gets added to your bill.
You also have the option to buy extra Smartbytes on a recurring basis monthly if you feel your current data plan doesn't provide you with sufficient data and are hesitant to upgrade to another plan.
Follow the steps below to buy additional Airtel Smartbytes using the Airtel Thanks app:
Open the Airtel Thanks app on your mobile
Click on the 'Data' button near your account details
Click on 'Data Balance'
Click on 'Get More Data'
You will be redirected to a page with a list of Smartbyte packs available with their cost. Click on your preferred pack
Once you confirm you want to make the purchase, the additional data will be provided within 2 hours.
Airtel Wi-Fi Password Change:Frequently Asked Questions
How can I change the name of my Airtel Wi-Fi?
To change the name of your Airtel Wi-Fi, repeat the instructions above, and on the page where you change your password, you'll notice an SSID name option. The SSID name is your Wi-Fi name, which you may alter to your liking.
How can I connect to Airtel Wi-Fi as an Airtel customer?
There are two methods for connecting to Airtel Wi-Fi:
Connect to the open SSID @Free Airtel Wi-Fi and choose the "Airtel User" option. You may connect to Airtel Wi-Fi once you have been authorised using OTP.
Download My Airtel App and choose the "Airtel Wi-Fi" tile to enable Wi-Fi perks through your My Airtel app.
How can I check the status of my WiFi data quota?
You can check your WiFi data quota balance under the WiFi section of the My Airtel app.
How can I resent the Airtel broadband password using a computer on Nokia Router G2425G-A?
Follow the steps listed below:
Make sure your computer is connected to the router either via LAN cable or Wi-Fi
Type 192.168.1.1 in a web browser.
Enter admin in the username and password field to login
Go to Network tab-->Wireless (2.4GHz)
Enter a custom name in the "SSID Name" field
Enter a password in the "WPA Key" field
Click"Save"
How to Update Mobile Number on Airtel Fiber WIFI?
Follow the steps below to Update registered mobile mumber in Airtel Xstream Broadband.
Enter the Airtel Thanks app using your login credentials.
Click on Quick Actions--> More--> Select "update mobile number".
Click the "update registered number" option.
Enter the new mobile number
Click on "Save"
Browse Other Broadband Operators