In an era dominated by digital transformation and internet-centric lifestyles, a fast and reliable broadband connection is no longer a luxury but a necessity. Tata Play Fiber, a leading player in India's broadband market, has emerged as a key contributor to the country's digital revolution.
With a range of cutting-edge fiber plans and exceptional service quality, Tata Play Fiber is empowering individuals and businesses alike to embrace the full potential of the digital age.

Tata Play Fiber: An Overview
Tata Play Fiber is part of the renowned Tata Group, one of India's most respected business conglomerates. Leveraging its vast experience and expertise, Tata Play Fiber entered the broadband arena to bridge the connectivity gap and provide world-class internet services across India.
Powered by fiber optic technology, Tata Play Fiber offers ultra-high-speed internet connections that cater to the diverse needs of consumers, entrepreneurs, and enterprises.
Why You Should Choose Tata Play Fiber As Your Broadband Provider?
Tata Play Fiber (Tata Sky broadband) offers a 100% fiber network that delivers end-to-end access with fiber optics flowing straight from the network operator to your home, providing a smooth and reliable internet browsing experience. Though this provider has several advantages, the following are some of the most beneficial reasons why you must consider using Tata Play Fiber as your broadband provider:
Superfast Speeds
99.9% uptime
Uniform Upload/Download Speeds
Highly Secured Network
Tata Play Fiber (Tata Sky Broadband) Unlimited packages are available with weekly, quarterly, semi-annual, and yearly validity. Tata Play Fiber (Tata Sky) Broadband is currently offering a 15% concession on their yearly packages and a 10% concession on their half-yearly packages.
For Unlimited Data plans provided by Tata Play Fiber (Tata Sky), speed will reduce to 2Mbps after 1500 GB data consumption. Check your internet speed now.
Tata Play Fiber (Tata Sky) Plans
With a variety of plans and flexible durations available, staying connected has never been easier. Whether you require a short-term recharge for a day, a week, or a longer-term option for a month, Tata Play Fiber offers a range of options to suit your requirements. Say goodbye to the inconvenience of manual recharges and enjoy the convenience of online recharge facilities provided by Tata Play Fiber.
Their packages offer faster HD video streaming, heavy file downloads, and uploads. Also, Tata Play Fibre is now available in megacities like Mumbai, Bengaluru, Jaipur, New Delhi, Pune, Kolkata, and Chennai.
Speed
50 Mbps
100 Mbps
150 Mbps
1 Gbps
200 Mbps
300Mbps
500Mbps
Landline
Data per month and Calls:Unlimited
1 Month
N/A
850
950
3600
N/A
N/A
N/A
3 Month
N/A
2400
2700
10800
N/A
N/A
N/A
6 Month
N/A
4500
5100
19800
N/A
N/A
N/A
12 Month
N/A
8400
9600
36000
N/A
N/A
N/A
Non Landline
Data per month and Calls:Unlimited
3 Month
1797
N/A
N/A
N/A
N/A
N/A
N/A
OTT
Data per month and Calls:Unlimited
1 Month
N/A
3 Month
2850
3150
3450
11850
3750
5250
7650
6 Month
5400
6000
6600
21900
7050
9900
14400
12 Month
10200
11400
12600
40200
13200
18600
27600
List of OTT Platforms
Hungama Play
Securing Your Tata Play Broadband Connection
You will not be able to benefit the most from your plan until you protect your connectivity, irrespective of which plan you select. Considering more users are operating from home, maintaining Wi-Fi data security is now critical. Follow the below steps to assure that your neighbors aren't hacking your data or trying to capitalize on your Tata Play (Tata Sky) connection.
Regular updates
Getting the right router is the very first step toward setting up a home Wi-Fi network. It is critical to consider factors such as the distance between the router and the network devices, the amount of interference based on the number of devices operating nearby, the propagation speed required, and safety. For the router, the latest wireless encryption system, WPA2, is preferred.
If auto-updates are available on the system, users can allow them. According to Sophos, if you are unable to upgrade the unit, it is preferable to substitute it with a stronger and more recent one.
Encryption Settings
According to the security company, WPA2-PSK encryption is needed. WPA2 is an abbreviation for Wi-Fi Protected Access, and PSK is an abbreviation for Pre-Shared Key. It prohibits unauthorized access to the wireless service as it is being exchanged between the router and the computers that are attached to it. If you are either using the WPA2 or WEP encryption systems, it is time to update.
Strong Password
Rather than just using your date of birth or mobile number as a password for your Wi-Fi network, you should put some thought into it. Simply choose a random letter that is difficult for anybody to predict, advises the cyber-security agency.
A fully refundable security deposit of Rs. 1000 is required for all 1-month subscriptions and 50 Mbps Unlimited Data plans.
How To Connect Your Tata Play Fiber (Tata Sky) Set-Top Box To The Internet?​
You can easily connect your set-top box to the internet by following these steps:
Attach your Wi-Fi dongle to the Tata Play Set-Top Box.
Reboot the Set-Top Box.
Choose your network and insert your password.
Click on the' Organizer' button and then go to 'System Settings'.
Go to 'Network Preferences'.
Pick 'Wi-Fi' as the selected network.
To maximize the 1 Gbps plan, the Wi-Fi speed will reach up to 450 Mbps, while the LAN connection can achieve speeds of 900 Mbps. It is important to note that any device utilizing the full 1 Gbps speed must be compatible with the 5 GHz band.
How To Get A New Tata Play Fiber (Tata Sky) Broadband Connection?
If you're considering getting a new Tata Play Fiber (Tata Sky) broadband service, you have some options to consider, including:
Buy online with a credit card or cash on delivery.
To request a new Tata Play Fiber connection, dial 074117 74117.
Send a missed call to 9293192931 to update your current service.
Go to your local Tata Play Approved Partner.
Steps to get a new Tata Play Fiber (Tata Sky) connection online
Visit the official site at https://www.tataplayfiber.com/
Choose your favorite box type.
Pick your chosen package and box on the following page.
Select the Book Connection option.
Now enter your information, such as your username, address, and method of payment.
You are now ready to use your new Tata Play Fiber connection.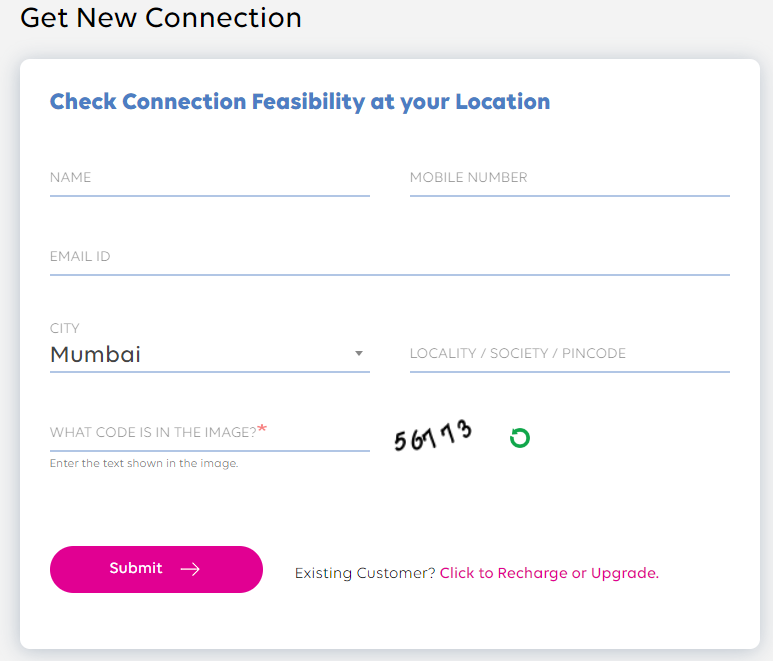 With just a few simple steps, you can recharge your connection and continue to enjoy high-speed internet without interruption. Experience the ease and flexibility of Tata Play Fiber recharge and stay connected effortlessly.
How To Check Plan For An Existing Tata Play Fiber (Tata Sky) Connection?
Dial Now By dialing 8880488804 from your registered phone number, you would obtain your Tata Play Fiber data like Subscriber Name, account balance, monthly recharge amount, upcoming recharge date, plan details, as well as recharge choices.
You could also get this information by logging into your Tata Play account. Type your registered phone number or Subscriber ID when signing in. On the home menu, you will then see your account balance, account due date, as well as monthly recharge amount. In the "View List," you can find all the details about your package. ​
Data Pack Prices are subject to change. Before confirming the subscription, check the prices at the Tata Play Fiber (Tata Sky Broadband) website.
Tata Play Fibre Customer Care Services
Tata Play (Tata Sky Broadband Private Limited) offers the best service to the customer. If you are dissatisfied with their facilities or have any questions, please contact them using the information below:
Email [email protected]
TSBB Customer Care Number: 1-800-267-6771 (toll-free) available 24 hours on all days of the week.
Tata Play Fiber:Frequently Asked Questions
Is Tata Play Fiber (Tata Sky) accessible in my neighborhood?
Tata Play Fiber (Tata Sky) ;is presently only accessible in a few regions. If you'd like to verify the accessibility of our service in your home/office/location, please call them at 18002676771.
How do I reactivate my Tata Play Fiber (Tata Sky) broadband service?
Sign in to https://www.tataplayfiber.com/ and pick the quick recharge button to recharge your account. You also can recharge your account by going to Myaccount.tataskybroadband.com and selecting the Recharge option.
What exactly is a Tata Play Fiber (Tata Sky) Smart Router?
The Tata Play Fiber (Tata Sky) Wireless Smart Router is a combination ONT and Router. It is a dual-band router with 2.4GHz and 5GHz frequencies.
Do the speed-testers really calculate the speed of my internet connection?
Almost all speed testing applications do not calculate speed but rather bandwidth (capacity). Regrettably, bandwidth is a calculation of just how much data a network can carry rather than its speed (throughput). In most instances, only speed controls the user interface experience.
Will the guaranteed speed be constant regardless of where I browse?
The screen resolution, the range between both the Smart Router and the user (for eg., your desktop), and the number of devices connecting to the internet at the same time would all have an impact on overall browser efficiency. As a result, based on the above considerations, the same connection can serve 2-3 different speeds.
Is ACT broadband superior to Tata Play Fiber (Tata Sky)?
Though ACT broadband is recognized for providing faster internet speeds, Tata Play Fiber (Tata Sky) offers more competitive plans and covers a wider region than ACT. As a result, based on your needs and venue, you could choose a network provider that suits you better.