In today's digital age, having a reliable and high-speed internet connection is crucial for various aspects of our lives, from work to entertainment. Den Broadband is a prominent player in the Indian broadband market, offering a range of plans, recharges, and other services to cater to the diverse needs of its customers.
In this comprehensive guide, we will get into the world of Den Broadband, exploring its plans, recharges, and additional services, helping you make an informed decision about your internet connection. 
What Is Den Broadband?
Den Broadband is one of the fastest-growing broadband internet providers. This internet service provider plans are more reliable and provide a customer care service. Den Broadband offers high-speed data for unlimited plans starting from 5Mbps to 100Mbps at a very affordable cost.

The company is available for selective cities like Delhi, Jodhpur, Kanpur, Gurgaon, Jhansi, etc. Den broadband provides safe login and affordable recharge packages. Den broadband has enough experience and proper infrastructure, making it unique for data transmission within a few seconds. The network stands on par with the leading broadband providers. They have used the fiber-optic network and internet Node Data centre to provide you with a better experience than other broadband services.
The company was founded in 2007 and has since expanded its footprint, providing services in various cities and towns across the country.
Den Broadband Plans
Den Broadband offers a wide range of plans to suit the different requirements of its customers. These plans typically vary in terms of speed, data limits, and duration. Let's have a closer look at some of the popular Den Broadband plans. Den broadband provides the most reliable and customer-friendly service by providing separate plans for businesses and commercial businesses.
The two categories are named as follows:-
Best Broadband Deals For Home
Broadband Service For Your Business
We've bifurcated and listed all the Den broadband home and commercial plans, which we've listed below:
Den Broadband Home Plans

| Monthly Rental | Speed | FUP Limit |
| --- | --- | --- |
| Rs.1179 | 10mbps | 90GB |
| Rs.2359 | 20mbps | 300GB |
| Rs.1298 | 25mbps | 60GB |
| Rs.2949 | 50mbps | 300GB |
Den Broadband Commercial Plans

| Speed in MBPS | Monthly data limit | Validity in day | Rental in Rs. | GST + Rental (in Rs.) |
| --- | --- | --- | --- | --- |
| 10 | 400 GB | 30 | 749 | 884 |
| 20 | 400 GB | 30 | 99 | 1179 |
| 40 | 400 GB | 30 | 1499 | 1769 |
| 50 | 400 GB | 30 | 1749 | 2064 |
It's important to note that the plans offered by Den Network could differ based on the region. So, if you're planning to get a new connection, it's recommended to check with your local Den provider about the plans offered before making a decision.
Den Broadband Recharge
Den Broadband offers convenient recharge options to ensure uninterrupted internet connectivity. Customers can choose from various recharge plans, including daily, weekly, monthly, and long-term options. There are two ways to recharge Den Wi-Fi:
Through Online
Through Wallets like PayTm and Oxigen Wallets

Benefits of Den Broadband
Affordable high-speed data plans
Hassle-free Wi-Fi Connection
A good understanding of customer requirements
Reliable data plans
Minimum 5Mbps to 100 Mbps data speed
24*7 Den broadband Customer Service
Where Are Den Broadband Services Available?
Den network has a team of experts who are continually striving to make them more affordable and change the way of delivering internet broadband service among customers. They are aiming to provide more reliable internet plans as well. The most significant achievement is the presence among the 13 states of India, and they are continually expanding their reachability.
The service provider is successfully connected to Delhi NCR and the top cities of Uttar Pradesh, Haryana, Uttarakhand, Rajasthan, Madhya Pradesh, Bihar, Jharkhand, and Kerala. They have consistently provided the best broadband plans accompanied by the best customer care service, affordability, data speed, etc.
The customers will be amazed and excited to experience the High-Speed Den Broadband recharge Plans implemented in Delhi, Jodhpur, Gurgaon other top cities of India.
Stay with us & view all offers
The best broadband comparisons, carefully reviewed and updated plans exclusively for you!
How To Get A New Den Broadband Connection?
Broadband internet access is currently available in practically all cities and even in rural regions. However, the company only provides direct connections to a few places in the North Indian states. Den provides broadband access through Local Cable Operators (LCO) in all other places.
If you want to get a Den Broadband Connection, call Den Customer Service at +1800-419-2020 or go to their website and fill out the 'new connection' form. Alternatively, you may check with your local cable operator to see if Den Connection is available in your region.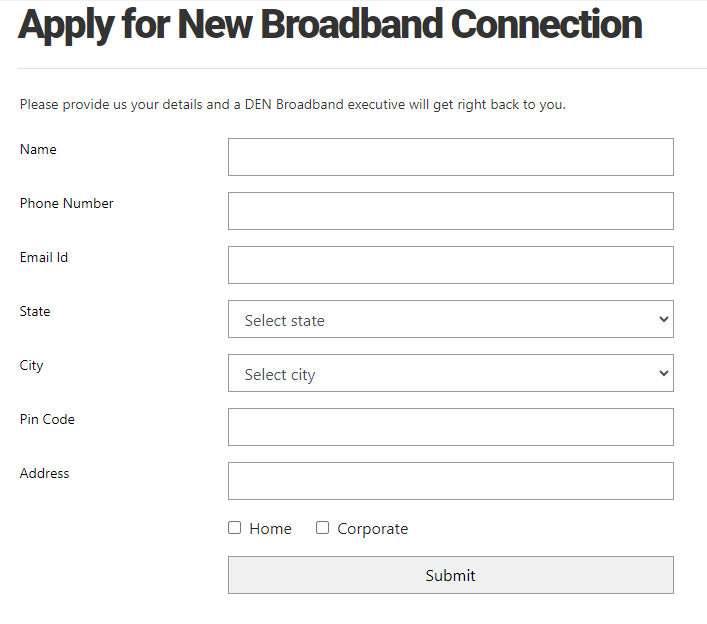 Den Broadband Bill Payment
Den Broadband makes it convenient to pay your Broadband Bills. It is just a click away! Customers can easily create a Broadband online payment by visiting the official website. Customers can avail of the benefits with the help of their online recharge services and with the use of a wallet; so get ready to make your broadband bill payments in a couple of minutes from anywhere.
Online Payment through Den Broadband Website:
Visit the official Den Broadband website. 
Log in to your account using your registered username and password.  
Navigate to the "Bill Payment" or "Pay Bill" section. This option may vary slightly depending on the website's layout.
Enter the amount you need to pay, and select your preferred payment method. Den Broadband typically accepts payments through various methods, including credit/debit cards, net banking, and digital wallets.
Provide the necessary payment details, such as your card or bank account information.
Verify the payment information and click on the "Pay" or "Submit" button to complete the transaction.
You should receive an email or SMS confirmation of your payment. Make sure to keep this confirmation for your records.
Payment through Authorized Retail Outlets:
Visit an authorized Den Broadband retail outlet or payment centre in your area.
Provide your Den Broadband customer ID or account number to the service representative.
Pay the bill amount in cash, check, or any other accepted payment method at the outlet.
Collect the receipt as proof of payment.
Apart from above listed methods, customers can also make payment via internet banking or by cheque or demand draft.
Den Customer Care Number
Customers may contact the Customer Care Centre equipped with Expert Executives to provide you with all the required information, understand your requirements and resolve the same effectively.
Den Broadband Complaint number
0120-617-5000
E-mail id
[email protected]
New Connection
782727-8080
Address
Unit No.116, 1st floor, C Wing, Bldg. No. 2, Kailas Industrial Complex, L.B.S. Marg, Park Site, Vikhroli(West), Mumbai-400079
Nodal Officer
Mr.Dheeraj Singh Bhadoria  
0120-6175028 (Mon to Sat)  
[email protected]
Grievance Officers Details
 Mr.Neeraj Kumar  
8882037408 (Mon to Sat)  
[email protected]
Should You Buy Den Broadband?
There are multiple internet service providers on the market, including Airtel, Hathway, Jio, etc. So, should you invest in Den broadband? To help you make a decision, we've listed a few pros and cons that you can consider:
Pros of Den
Enjoy unlimited data at an affordable price and speeds of up to 100 Mbps depending on the package.
Exciting discounts are available for new clients who are presently applying for a connection.
Paytm and credit/debit cards are accepted for online bill payment.
Cons of Den
Customer service is not good as most of the time customers can't get in touch with an agent.
There are a lot of internet lagging and speed-related issues.
Den Broadband is available only in limited areas
Den Broadband: Frequently Asked Questions
Can I move my Den broadband connection while moving houses?
If you're shifting houses, you can shift your Den Broadband network too. However, you'll have to inform the network provider as they'll send a representative to set up the connection in your new house. You can raise a request for this from the Den website.
How do you recharge Den broadband?
To recharge your DEN Cable connection online, go to the DEN Networks' official website. When you click on the above link, you will be presented with a window in which you must enter your registered mobile number and password. You can also make online payments using PayTM and other third-party platforms.
How can I increase my den broadband speed?
The best way to achieve this is by getting your router placed where your TV unit is placed and connecting it with the best Ethernet cable. This will reduce the loss due to last-mile connectivity as your fiber optic terminates at the router and traditional wires take over for connecting your devices with the router. Learn more about increasing your internet connection's speed in our comprehensive guide.